Wheelchair Ramp Rentals
Welcome to Wheelchair Ramp Rentals in Kansas City! We rent ramps for the duration of your rehab. We also offer DIY wheelchair ramp kits, which are a low-cost option. Our wheelchair ramp rentals only take one person to assemble. Click on the wheelchair ramps Home page tab at the top of this page to learn more about the 'kit ramp.'
My name is Chuck Palmer and I am a retired engineer in Kansas City. I have been designing and building wheelchair ramps for over 10 years. So, you will be dealing with one person from start to finish. No matter what your situation, I have probably dealt with it before.

Wheelchair Ramp Rentals Pricing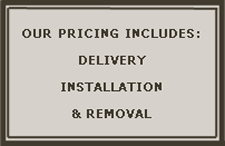 Everyone wants to know how much wheelchair ramp rentals will cost. There are too many variables of wheelchair rental ramp implementation to provide a quote over the phone. However, I offer a free site analysis in the immediate Kansas City area and can generally come out the same day. You will have our wheelchair ramp rental pricing before you can get other companies to return your call. I will determine the optimum ramp solution for the home and will provide a no obligation quote during the visit. No one can guarantee that their service will be the lowest price...however, if Wheelchair Ramp Rentals is not your lowest cost option, it will be close. Our pricing includes delivery, installation and removal. We operate 7 days per week, no extra charge.
The slope is a critical element to implement in our wheelchair ramp rentals. A slope that is too steep makes the ramp unusable because the patient can not be pushed up the ramp and the caregiver can not control the wheelchair when going down the ramp. We guarantee the slope of your wheelchair ramp rental will fit your needs. Regardless of where you get your ramp, the vendor must factor in these elements of each installation to design the proper ramp length and slope for safety and usability.
height of steps to overcome
available space for a ramp at each entry point in the home
weight of the patient and whether manual or powered wheelchair
strength of the caregiver
Wheelchair rental ramp installations can generally be completed within 24 hours of a site visit, sometimes the same day. All pricing includes delivery, installation and pickup. No payment is due until you have are satisfied. Our wheelchair ramp rentals have 30" wide aluminum ramp decks to whatever length you require. These have a traction surface, which is suitable for indoor or outdoor use.
Call Wheelchair Ramp Rentals Kansas City for a free site analysis at...913-553-1488...7 days/week