Wheelchair Ramp Parts
Shipping outside the Continental US is extra, priced on destination address. Please call for info before placing order.
These affordable wheelchair ramp parts are made by WheelchairRampKits and consist of heavy gauge aluminum that will not rust or stain a porch or sidewalk. These three brackets are designed to fit standard 2 inch by 12 inch lumber explained in the wheelchair ramp specifications. You can simply purchase the wood and bolts at a home center store. Then when you do the assembly yourself, you will save hundreds of dollars. This is compared to purchasing aluminum ramps or custom contractor-built wheelchair ramps.
All wheelchair ramp parts orders received by 2 p.m. CST are shipped same day via FedEx Ground with 2 to 4 day ship time.
NOTE: In using the Add To Cart buttons below, you can pay with your credit card or a PayPal account. In the checkout process, you will be asked if you want to set up a new Paypal account. Simply bypass this and click on the "Pay with Debit or Credit Card" link at the bottom to continue the checkout process. Please call (913) 553-1488 with any questions.
Standard Wheelchair Ramp Bottom Bracket
This standard wheelchair ramp bottom bracket is 32" long and made of heavy gauge aluminum. It makes it easy for wheelchairs, scooters and power chairs to smoothly enter and exit the bottom of the ramp.
(Click on image for larger view.)
Price:  $45.00
Shipping: $8.00
---
Flush Top Wheelchair Ramp Bracket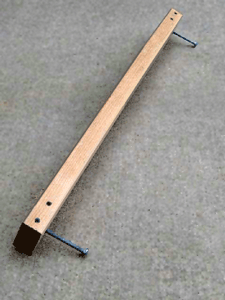 This flush top wheelchair ramp bracket is installed for outward swinging doors where standard top brackets can not be used. Shown with adjustable carriage bolt legs, which are not included.
Price: $24.00
Shipping: $8.00
---
Standard Wheelchair Ramp Top Bracket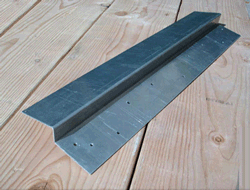 Our standard wheelchair top bracket is 30" long and made of heavy gauge aluminum. This top bracket fits a 32" doorway and designed to fit any practical slope or height. (Click on image for larger view.)
Price: $50.00
Shipping: $8.00
---
33" Sectional Wheelchair Ramp Top Bracket
This sectional top bracket is 33" wide and provides complete edge-to-edge coverage between the safety guard rails. Normally used between ramp sections, it can be used at the top instead of the 30" wide standard top, if desired.
Price: $55.00
Shipping: $8.00
Call (913) 553-1488 if you have questions about any of these affordable wheelchair ramp parts.